Twelve Capital Event Update

4 September 2023
Hurricane Situation
Hurricane Idalia made US landfall on 30 August 2023 in Taylor County, Florida as a Category 3 storm, with winds, storm surge and precipitation impacting not just Florida, but areas in Georgia and the Carolinas too. A key factor of Hurricane Idalia was its rapid intensification in the Gulf of Mexico driven by heightened sea surface temperatures, which will be an important feature to consider for the remainder of the season. However, the landfall location of Idalia in a low population density area plus a slight weakening just before landfall limited the impact from the storm. There have been no significant updates since our Hurricane Idalia report on 31 August, for more details regarding Idalia, please visit the report.
During the past week, aside from Idalia, two more named storms formed in the Atlantic: Jose and Katia. Both storms initially formed off the west coast of Africa but have remained far out in the Atlantic, away from land, and are therefore not expected to cause any impact.
There is currently an area of low pressure, located approximately 800km south-west of Cape Verde, which looks to have favourable conditions for development. The National Hurricane Center (NHC) has assigned a 90% probability of formation over the next 7 days. If the storm does develop, the system will become Tropical Storm Lee. Current forecasts have the system heading west over the coming week, however, given the uncertainty of these initial forecasts, we will continue to monitor the likelihood of storm making landfall closely.
Halfway through the Season
As of 4 September 2023, we are approaching the halfway point of the Atlantic Hurricane season, measured by ACE (Accumulated Cyclone Energy). The chart below shows how observed hurricane activity of the current season compares to the historical average ACE (1991-2020), illustrating that we are slightly above average for this time of year.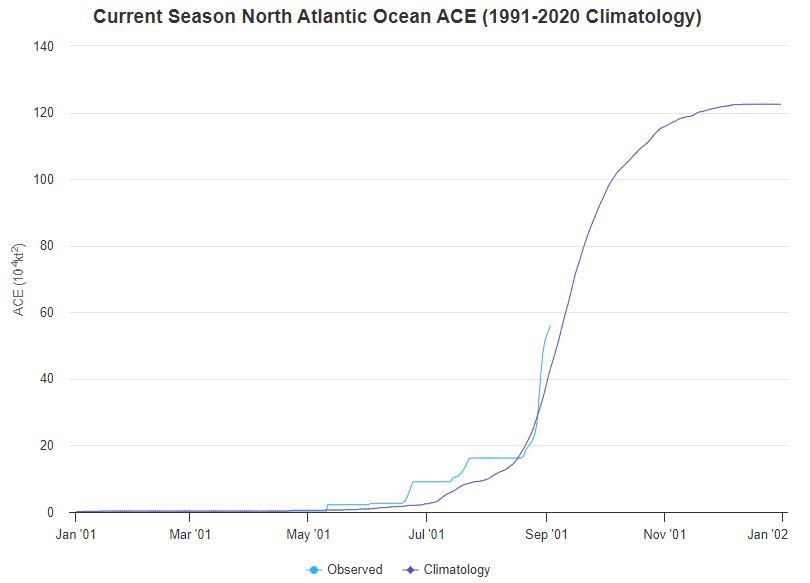 Source: http://tropical.atmos.colostate.edu/Realtime/index.php?loc=northatlantic
Twelve Capital continues to closely monitor relevant potential and actual catastrophe events and will issue specific updates on new major events which will occur.