Twelve Capital Event Update – Hurricane Idalia

31 August 2023
Hurricane Idalia made US landfall at 8am local time on 30 August 2023 in Taylor County, Florida, a region known as "Big Bend". It made landfall as a very strong Category 3 storm, at ca. 200 km/h winds bringing with it historic levels of storm surge. The storm continued to move further inland, and despite weakening, still brought with it damaging winds and storm surge that impacted Georgia and the Carolinas.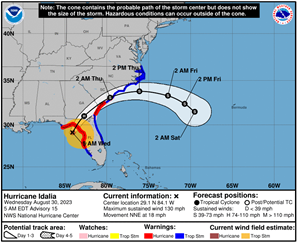 Source: https://www.nhc.noaa.gov/archive/2023/IDALIA_graphics.php?product=3day_cone_with_line_and_wind https://www2.census.gov/geo/maps/cong_dist/cd115/st_based/CD115_FL.pdf
Hurricane Idalia is the strongest landfall in the Big Bend area for over 100 years, but fortunately it impacted an area of low population density, missing both Tallahassee in the north and Tampa in the south.
The historic levels of storm surge it brought with it will bring challenges to those living on the coast of Big Bend, with some areas potentially seeing up to 5 meters of water. The map below shows the extent of the expected storm surge impacts, all the way from Southern Florida to North Carolina. For context, Hurricane Dennis in 2005, also Category 3 storm that made landfall in the nearby Florida Panhandle region, brought with it only 2-3 meters of surge.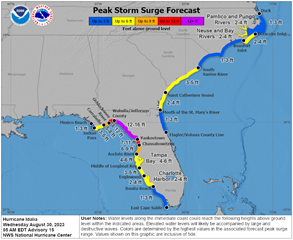 Source: https://www.nhc.noaa.gov/archive/2023/IDALIA_graphics.php?product=peak_surge
At this time the indications are that the industry loss from Idalia will be in the high single digit to low double digit (USD bn) range, and that we do not expect any direct impact to any Twelve Capital positions from this event. However, this might of course add to the aggregate erosion of a number of Cat Bonds covering various perils over an annual risk period.
As this is an ongoing event there is uncertainty around the final loss number, and who may be impacted. This will be analysed and monitored going forward.
Twelve Capital continues to closely monitor relevant potential and actual catastrophe events and will issue specific updates on new major events which will occur.