29 September 2022
On Wednesday, 28 September at around 3pm (local time), Hurricane Ian made landfall near Caya Costa, Florida, as a strong category 4 storm. After making landfall Hurricane Ian has begun to weaken. At time of writing it is now a category 2 hurricane, with further weakening predicted to occur over the coming day as it travels north-east towards Orlando.
The initial industry loss estimates for this event are in the range of USD 30bn to USD 80bn, but this will only become clearer over the coming days and weeks as damage reports start coming in.
Given that this is still an active storm there is uncertainty around what may happen next, while current predictions have Ian weakening into a tropical storm and heading north, there is the possibility that it will stay a category 1-2 storm as it travels near Orlando, Florida or potentially to restrengthen in the Atlantic and make a second landfall in the Carolinas.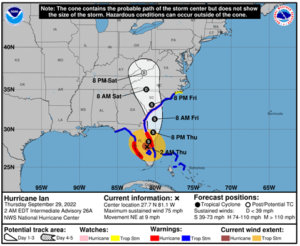 Source: NOAA NHC
https://www.nhc.noaa.gov/refresh/graphics_at4+shtml/035748.shtml?cone#contents
In terms of impact, this is likely to cause losses to Florida indemnity catastrophe bonds, as well as the Floodsmart bonds issued by the NFIP. Index-linked catastrophe bonds will be much more dependent on the overall loss – there could be very limited impact should the event stay below USD 50bn, some impact between USD 50bn and USD 75bn, and should the loss increase beyond this there will be a larger number of index-linked bonds at risk.
Twelve Capital continues to closely monitor any catastrophe events and will issue specific updates on any relevant new major events that occur. There will be an update call for investors to talk about fund-specific impact on Friday, 30 September 2022. Please get in touch with us if you have not received an invite.