Twelve Capital Event Update

3 October 2022
Hurricane situation
Hurricane Ian
Last week we saw Hurricane Ian make landfall as a strong category 4 storm near Cape Coral, Florida, before travelling out into the Atlantic to then make a second landfall as a category 1 hurricane near Myrtle Beach, South Carolina.
Along with power outages for millions, large scale property damage, and loss of life, the full extent of the damage will only become clear over the coming weeks. Initial industry loss estimates place Hurricane Ian likely in the USD 50bn to USD 70bn range for the Florida landfall, and ca. USD 1.5bn for South Carolina but still with uncertainty around the final number. People are only beginning to return to their homes, and with this the first claims will soon start coming in and within a few weeks we will start seeing how large the damage was.
At this level of industry loss, we are expecting a number of catastrophe bonds to be depleted, particularly those from the National Flood Insurance Program (NFIP) called "Floodsmart", some of the indemnity bonds purchased by Floridian insurers, and potentially the junior tranches of some index-linked catastrophe bonds should the industry loss total be at the higher end of estimates, or grow beyond them. In addition, this event will have added potentially significant erosion to any aggregate catastrophe bonds, meaning that should there be other meaningful events in the remainder of 2022 that more catastrophe bonds could be at risk from an aggregation of events.
Over the weekend, we have received the regular weekly pricing data from brokers which indicate valuation losses for most funds and the cat bond market in the mid-single digit area.
Hurricane Orlene
Currently situated in the Eastern Pacific, it is due to make landfall in Mexico near Mazatlán, Sinaloa as a category 1 storm within the coming 24 hours. There is a parametric catastrophe bond that is at risk, but it is triggered from a hurricane having a central pressure below a specific value. Current indications look at though this should not currently be an issue for triggering the bond.
Other activity
The Atlantic continues to be active with two areas having the potential to form a hurricane in the coming five days.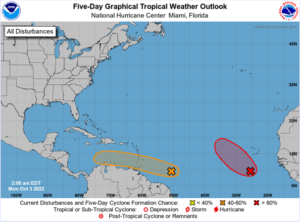 Source: NOAA NHC (National Oceanic and Atmospheric Administration, National Hurricane Centre)
https://www.nhc.noaa.gov/gtwo.php?basin=atlc&fdays=5
Twelve Capital continues to closely monitor any catastrophe events and will issue specific updates on any relevant new major events that occur.