Twelve Capital Event Update

10 October 2022
Hurricane situation
There are currently no active systems in the Atlantic basin, nor any expected to form in the coming five days. While we are just over seven weeks away from the official end of the Atlantic hurricane season, we have now passed through the majority of the risk period.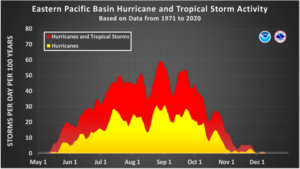 Source: https://www.nhc.noaa.gov/climo/
Hurricane Ian update
It is expected that the Property Claims Service (PCS) will shortly be releasing its first estimate of the industry loss from Hurricane Ian. These reports are used in the loss calculation of "index-linked" catastrophe bonds.
At present Hurricane Ian looks as though it will probably be in the range of USD 55bn to USD 65bn, this is likely to be refined further in the coming weeks as more official estimates are released, and the first losses from insurance companies are reported.
Twelve Capital continues to closely monitor any catastrophe events and will issue specific updates on any relevant new major events that occur.