Twelve Capital Event Update

15 August 2022
Hurricane situation
There are currently no active systems in the Atlantic and no significant development is expected in the coming five days.
A quiet season?
We are now two and a half months into the Atlantic hurricane season and have only seen three storms, none of which caused any relevant insured losses. This apparent lack of activity is attracting a number of news stories, and is worth exploring for what it might mean for the remainder of the season.
The core reasons for a quiet start to the season are a combination of; a large area of the Atlantic was covered by an outbreak of dust from the Sahara Desert which inhibits hurricane formation, meteorologically there were conditions promoting hurricanes in the eastern Pacific (where multiple have formed) while at the same time suppressing Atlantic Hurricanes, and finally there have been strong low-level winds which disrupt hurricane formation.
While the start may have been quieter than the recent past, it is very important to understand that the peak of the hurricane season is still ahead of us, as indicated by below chart. Additionally, there is little (to no) correlation between early season activity and that of the peak. While there have been a number of downward revisions from National Oceanic and Atmospheric Administration (NOAA), Tropical Storm Risk (TSR), and Colorado State University (CSU) regarding the total number of hurricanes this season, are all still predicting normal or above average activity.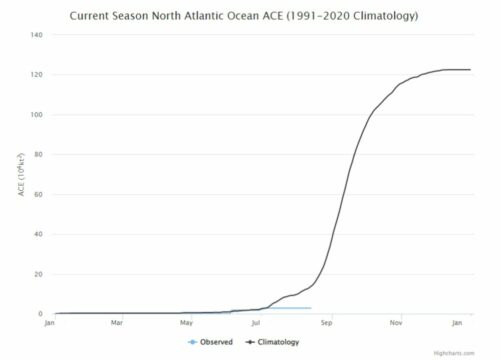 Source: http://tropical.atmos.colostate.edu/Realtime/index.php?loc=northatlantic
The dampening effects from the past two and a half months are reducing, in addition to there being an increase in sea surface temperature particularly in the Gulf of Mexico as well as signals showing that we will shortly be entering a La Niña, all of which are conducive to having landfalling hurricanes.
Twelve Capital continues to closely monitor any catastrophe events and will issue specific updates on any relevant new major events that occur.